Seduced by orchids
Kew's orchid extravaganza is just right for Valentine's Day. Orchid expert Susanne Masters takes a look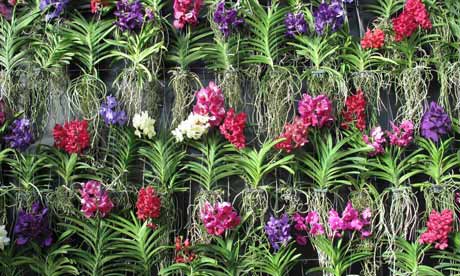 A wall of vanda orchids at Kew Gardens' orchid extravaganza. Photograph: Susanne Masters
Orchids have always inspired passion, from the pollinators that love their nectar, to the people prepared to pay astronomical prices for a single plant. Kew Gardens' annual orchid extravaganza is one of the few floral displays gardeners can easily coax non-gardening family and friends to visit; orchids are seductive even to people who don't usually do plants, so it's perfect for Valentines. Plus it's 21C under cover in the Princess of Wales conservatory: the perfect escape from the chill of a February day.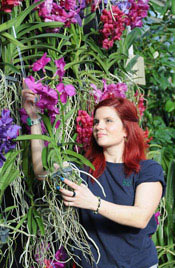 Elisa Biondi tends the vanda orchids. Photograph: Susanne MastersElisa Biondi, horticulturalist in the Princess of Wales conservatory, told me this year's display was put together within a tight timescale of three months instead of the usual year. This may have contributed to the simplicity of design, which has endowed elegance that has sometimes been lacking. In previous years orchids arranged in contrasting colours accompanied by numerous bromeliads had instant visual impact, but their delicate forms and shades of colour were swamped. This year's arrangements place orchids of similar colours together, accompanied not by angular bromeliads, but by ferns and begonias, which are better at highlighting the orchids' features. One exception to grouping orchids in the same colour is the marvellous display of vanda orchids: hung against a black wall, they looked sumptuous.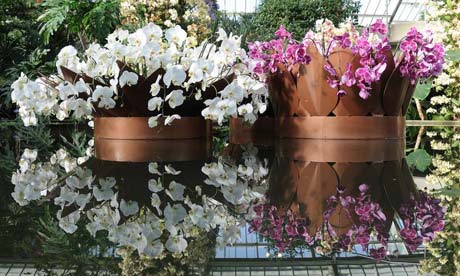 Containers of moth orchids reflected in the water at the Princess of Wales conservatory. Photograph: Susanne MastersOrchids at Kew are not restricted to glasshouses, although outdoors they will only make an appearance when the weather warms up. Hardy orchids such as bletilla are planted in the flowerbeds. Native bee orchids grow in a patch near the main gate, which is usually fenced off making them easy to spot, and common spotted orchids grow in the conservation area. Another native orchid species, southern marsh orchid, has become invasive, spreading from the rockery to the woodland garden; a reminder that orchids can thrive so much that on occasion they can be weeds.
The orchid extravaganza at Royal Botanic Gardens Kew is open from February 9 to March 3 2013. If you want to find out more, read Susanne Masters' feature on growing orchids as houseplants.